I feel lucky.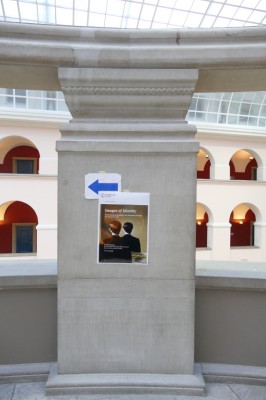 I had been invited to read in the Artist's Panel of the Images of Identity conference in Zürich. For a title of my picture-poetry combination I chose "Images for the I".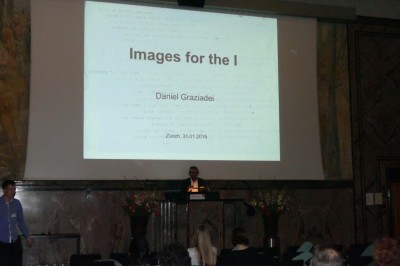 The reading took place on Saturday, 31st January 2015 in the Aula of the University Zürich.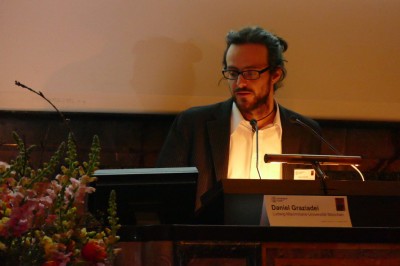 That means that I read in an aula where Winston Churchill once spoke to the European youth about the United States of Europe rising from the ashes of WWII ("Therefore I say to you let Europe arise"). So much for a historic place.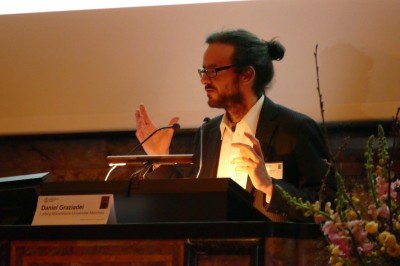 Not a bad place for my first reading of English-poems-only, wouldn't you agree?
I read, among others, my old favourite: "Blue yet defining".
And I read unpublished new ones like "Pictures of past masques", whose beginning I'd like to cite here, followed by a photo of the projected picture that goes with it:
Pictures of past masques
Observing former masks
standing there smiling
at you
from photographic paper
aging with pride
Sooner or later we have to ask ourselves
if this really is the same two-letter persona
m e = me?
Or
is this merely a manifest of a moment
a pamphlet for a whole life
a banner on the climax
a looming goodbye
a sad farewell
to youth
to good times
to life
?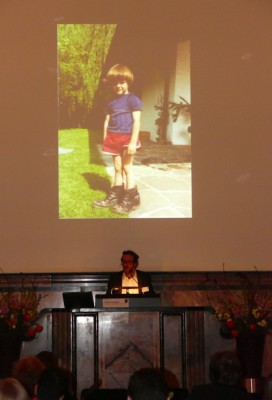 ——————-
I feel lucky and thankful. This life is full of presents. We may accept ours.