Next Thursday
in Munich's former art-quarter Schwabing
at 84GHz (Georgenstraße 84)
from 7pm:
NEVER ODD OR EVEN
an exhibition by Märta Mattsson & Tanel Veenre
with music by Lauri-Dag Tüür and poetry by myself.
My part is in English in case you wonder. And yes, all but one poem were written for the event. They are inspired by the thematic backdrop: palindromes. By the palindrome NEVER ODD OR EVEN that titles the exhibition and also and especially by some glimpses at photographic depictions of two of the splendid art-works we will see and which you can preconceive here.
I will show my poems and read them live and hopefully with not too much of a local or global accent 😉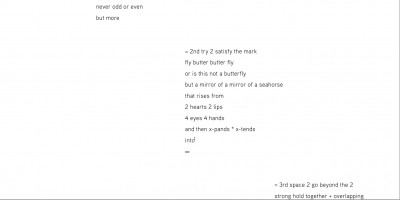 [for this picture in large: click here]
The opening night of the exhibition will conclude with the Current Obsession Party.
See you there or read you later.
Have a wonderful day,
I go now and enjoy the spring sun.
d